EasyPCAccounts is a web-based accounting package specifically designed for small to medium sized parish councils. Because it is web-based the information can be accessed from any computer linked to the internet provided that the user has the appropriate authority to do so.
Most parish councils, even if they present accounts based on income and expenditure, keep the day-to-day transactions on a receipts and payments basis using a cash book. This model is followed by EasyPCAccounts so that the basic record is a cash book.
Receipts and Payments
All transactions entered on a day-to-day basis are either a Receipt, a Payment or a Transfer. Receipts and Payments have to be allocated to an Account (rather like the column in an analysed cash book); Transfers are between two Bank Accounts and are entered by a differnet screen. In addition, all transactions have to be allocated to a Bank Account and Receipts have to be allocated to a Customer and Payments to a Supplier. The process is best illustrated by looking at the screen for inserting a payment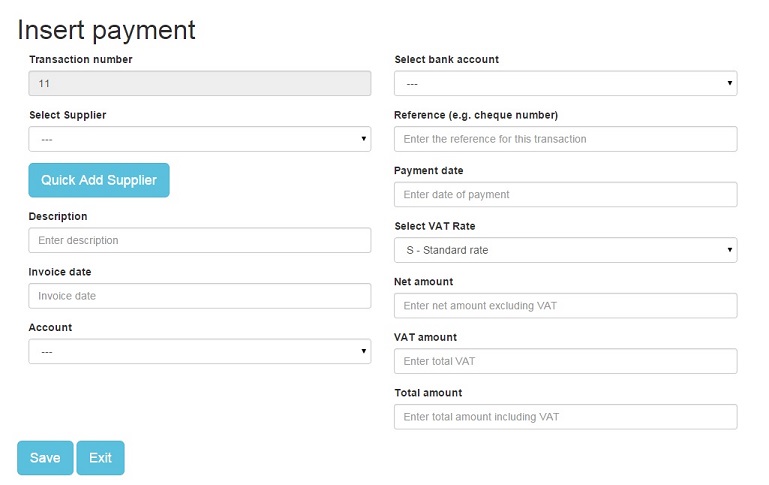 The screen for inserting a Receipt is identical although some of the fields may not need to be used.
Records are kept of VAT and the software can produce a list of invoices suitable for submitting with the VAT reclaim.
Suppliers and Customers
As mentioned above, every transaction must be associated with a Supplier (Payment) or Customer (Receipt). The use of these two words is fairly self-explanatory but has to be stretched a little for certain transactions. For example, payment of the Precept is a Receipt and it has to be associated with a Customer, in this case the District Council. Similarly, payment of salaries has to associated with a Supplier, in this case the particular employee or a generic Supplier 'Employees' if personal information is to be protected.
Bank Accounts
The Council can have as many Bank Accounts as it wishes. In most cases, Receipts and Payments will all go through one account, the main current account, with Transfers being used to move money between accounts. However, interest received has to be entered as a Receipt to the appropriate interest-bearing account; in this case the Customer will be the bank that paid the interest.
One of the most important requirements for Council accounts is Bank Reconciliation. The software includes a specific feature that allows the user to reconcile each bank account and then produce a report on all the accounts that should be suitable for sending to the Council's external auditor. Monthly reconciliations can easily be carried out and reported to the Council.
Accounts and Budgets
In other systems sometimes known as income and expenditure codes, Accounts are used to analyse the Council's income and expenditure. Every transaction is recorded in an appropriate account and then reports can be produced of the Council's receipts and payments against these account codes. Every Account can have an associated budget and these budgets can be profiled through the year
Profiling of budgets is a powerful tool since reports based on budget profiles can give a much clearer picture of how the Council's receipots and payments are going through the year
Many expenditure codes will be profiled in equal monthly amounts. This especially applies to salaries, but will also apply to many other accounts. However some, such as, for example, the insurance premium will be paid in one pre-defined month. Similarly, the Precept will always be received in two specific months, usually April and September. Different profiles can be set for each income or expenditure code and reports can be produced based on these profiles.
Every account belongs to an Account Group. This is an aid for structuring the reports. The use can be seen below:
Receipts
Period
Budget
Actual
Variance
Precept
Precept
5,000.00
15,000.00
10,000.00
Total Precept
5,000.00
15,000.00
10,000.00
Other Income
Burial fees received
400.00
600.00
200.00
S106 income
0.00
0.00
0.00
Bank Interest
0.00
0.00
0.00
Total Other Income
400.00
600.00
200.00
Total Receipts
5,400.00
15,600.00
10,200.00
Payments
Period
Budget
Actual
Variance
Personnel costs
Salaries and wages
2,000.00
1,000.00
-1,000.00
Total Personnel costs
2,000.00
1,000.00
-1,000.00
Other expenses
Stationery
0.00
20.00
20.00
Maintenance
0.00
25.00
25.00
Total Other expenses
0.00
45.00
45.00
Total Payments
2,000.00
1,045.00
-955.00
In the above example, the headings in bold are the Account Groups and the entries below each are the Account names.
Access to the software
The software is protected by passwords and users can be set up with various roles. These are:
Administrator can carry out any task on the system. The administrator is the only person who can create new users. There will normally be only one administrator
Bookkeepers can enter transactions and create new suppliers and customers. A bookkeeper cannot create or modify an account or its associated budget.
Councillors can view any transaction or set of transactions on the system. They essentially can look but not change anything